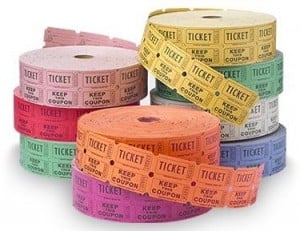 $

5.00
This is 1 x ticket to be thrown into Lincoln Le Fevre's raffle hat and drawn on the Sunday of the Australia Day weekend shows.
Heaps of awesome prizes up for grabs...
*Reverence Hotel - Double Pass To Any 3 x Shows In 2014!
*Poison City Records Tee Shirt + Vinyl Pack
*Gift Voucher From Hollow Bones Co
*Kanye Lens vs Soundwave Art Book
*Merch Pack From Too Far Gone
*Cosmic Psychos: Blokes You Can Trust Documentary on DVD
*Blunt Magazine 12 Month Subscription
*Artwork from Clare Clarity
*Artwork + Snapback Cap From Apollo Collective
*Artwork from Callum Preston
*100 x AO Poster Distro From Shout Out Loud Print
*Deathproof PR logo mug
If you're interstate or can't make it to the shows over the weekend, this is a great way to still get involved and you're in with a chance to win some really great stuff from all the lovely people kind enough to donate their work to a deserving cause. Enter as many times as you like!
**PLEASE MAKE SURE A VALID EMAIL OR PHONE NUMBER IS ATTACHED TO THE ACCOUNT OR LEFT IN THE NOTES**